Human Bodies
Cannibal Island Meats
Throughout the Human Earrings trial, journalists had criticized the sculpture for being anti-women. For example, Rosalind Coward wrote in the New Statesman magazine:
In many ways I dislike the sculpture. There seems to be an implicit message about women's indifference to life, while playing on the fact that it is women who are most likely to be distressed by the sculpture. It might also be seen as unhelpful in the context of debates about abortion exploiting women's fears about what could happen to an aborted foetus.
In the same magazine, the journalist Sean French wrote:
For me, the work is a disgustingly flippant piece of misogynism and without artistic merit.
I was shocked when I read their comments. In my mind, the Human Earrings sculpture was about species, not gender. So to clarify this point, I ate a slice of human testicle.
Buying the testicle was easy. I bought mine from an educational supply company which sent it directly to my home in London.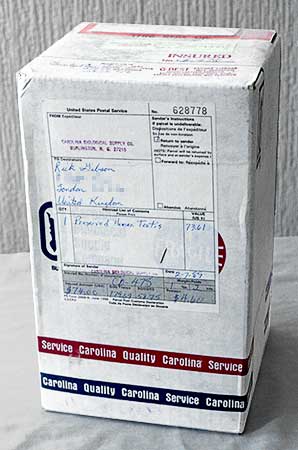 The shipping label on the box said that it contained a preserved human testis valued at US$74.
After opening the box I pulled out a jar protected by plastic bubble wrap.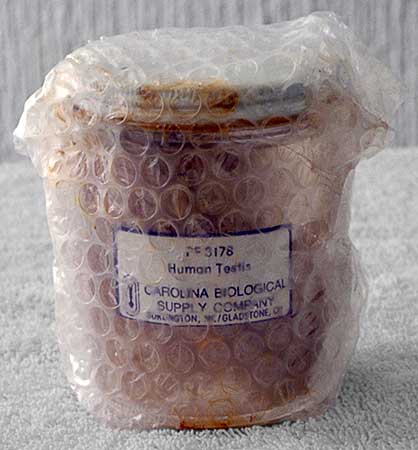 When I removed the bubble wrap l saw that the jar contained a human testis preserved with embalming fluid.
I then unscrewed the lid, stretched it out and sliced off a piece of testicle. (Unfortunately, at this point in the documentation, only a black and white photo survives.)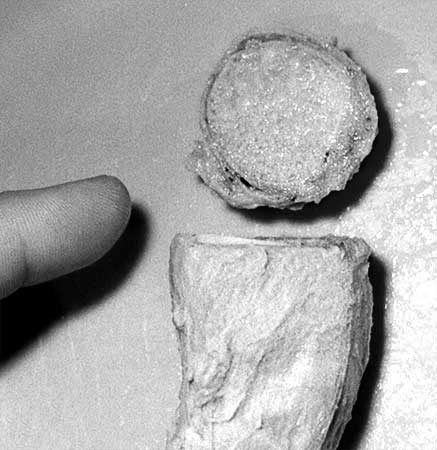 Like the tonsil slices, I soaked the testicle slice for a week in baths of at least 70% strong drinking alcohol to remove the poisonous embalming fluid.
When it was safe to eat, I sent out this press release:
On Saturday, 15 April 1989 shoppers in central Lewisham will be able to watch artist Rick Gibson eat an hors d'oeuvre with sliced beef, pork, chicken and human testicle.
Rick will start at 11:00 from the small park on Molesworth Road and walk to the Clock Tower where he will eat the assorted meats.
During the walk he will wear a sign which reads, "I Will Eat Meat Soon".
The artist bought the slices of beef, pork and chicken from a London grocery store. He bought the preserved human testicle from an educational supply company.
Gibson, who previously ate a slice of human tonsil, says, "Its all about meat that's legal to eat."
I decided to make the canapé ahead of time so that I could show it to shoppers while I walked to the Clock Tower. Below is a picture of the ready-to-eat meat.
During my walk, I was accompanied by journalists and supporters.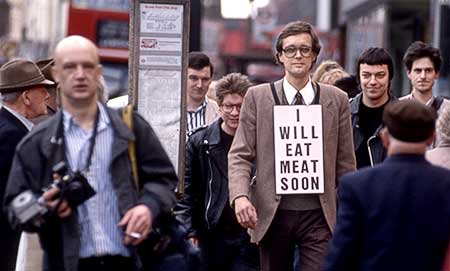 At one point a curious shopper asked me, "What's this all about?" So I showed her my prepared snack and pointed to the various meats I planned to eat. When she heard this she said, "It doesn't sound very appetizing."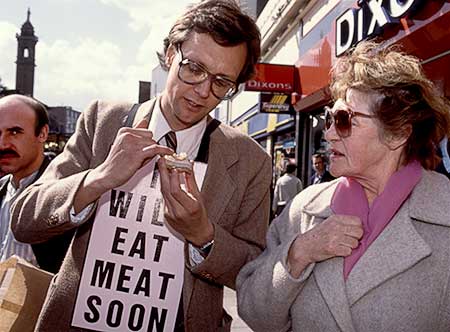 Eventually I arrived at the Clock Tower where I put the prêt-à-manger hors d'oeuvre into my mouth.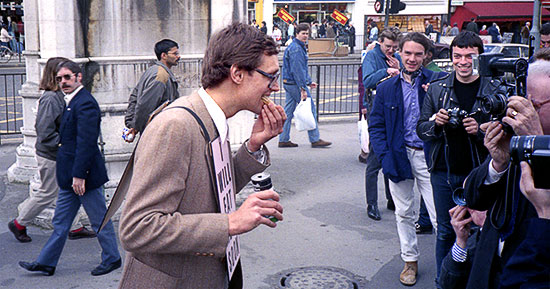 Then I bit off my first piece, ...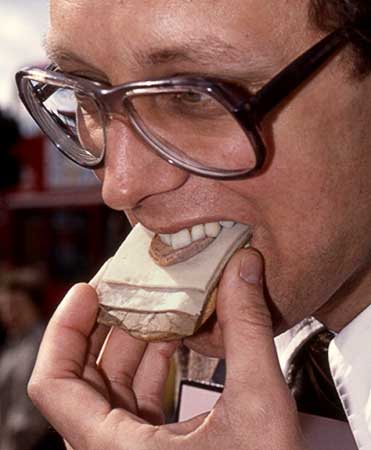 ... washed it down with a medium white wine, ...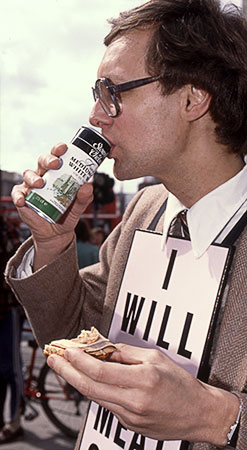 ... and paused to pose with the half-eaten snack.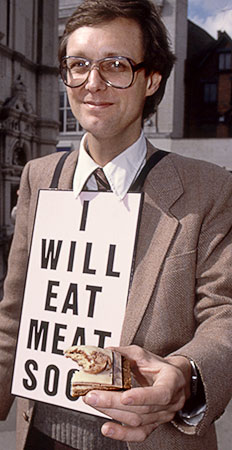 Then I ate the rest of it, finished the wine and went home; confident that I had made my point.