Dead Animals
Exhibiting
My first exhibition of freeze-dried sculptures was held in 1982 at the Pitt Art Gallery in Vancouver.
The show, entitled Dead Animals, started with a row of sculptures on the right. Each delicate sculpture was protected by a glass case which sat on top of a spot-lit pedestal.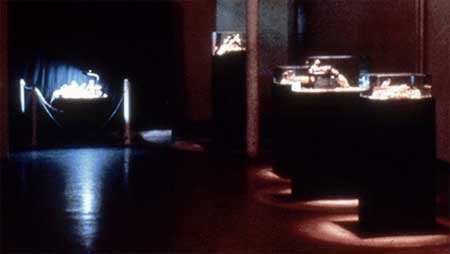 At the very back of the gallery was a roped-off, free-standing installation.
To give you an idea of what visitors saw at that exhibition, I have included an art review published in the Vancouver Province newspaper:
This is a bizarre art exhibition.
Dark and museum-like, the Pitt Art Gallery is lined with glass cases filled with preserved animals. Yet unlike the usual museum diorama of woodchucks nibbling grass or field mice making a nest, these glass cases are filled with mutilated animals.
There is a rat with electrodes embedded deep into its head. There is a cat tied to a table with its guts spilling out onto a small, veterinarian-size operating table. Yet the big crowd-pleaser has to be the work entitled, "I Own a Uterus with a Paint Job".
All of the works are made of stock, mail-order animal and human body parts that are available to anyone who wants them. The uterus comes to artist Rick Gibson through a catalogue which also offers a "human heart — in Formalin. With aorta attached. $95." Can you ask for a better Valentine's Day gift for that someone special?
In any event, the humorous tone of Gibson's work is not to be overplayed. Sure, there are freeze-dried baby chicks in Ernie's Take Home cardboard cars, with the title "Some Career Options for Chickens." And a dried octopus becomes a salad dish — "Skin and pound…separate suckers." Yet it is the moral issues that Gibson wants us to look at.
His sculptures raise questions about euthanasia, abortion, animal slaughter, laboratory dissections, and "when is life worth living?" His morals tend towards a sympathy for the animals, yet Gibson likes to be somewhat obscure with his position.
Included with this review was a newspaper picture of me posing with the sculpture Some Career Options for Chickens.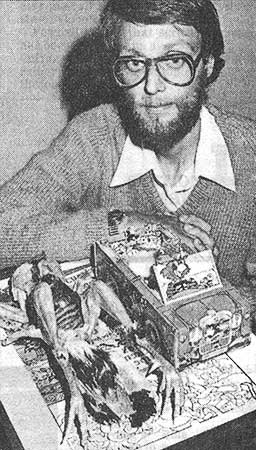 What follows are photos and descriptions of the sculptures that were in that show.
WARNING

Parental guidance is suggested.